Skip the product gallery and learn about product details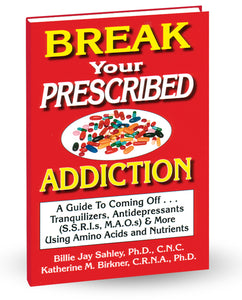 Share the product on social media
Product Description
Break Your Prescribed Addiction by Billie Jay Sahley, PhD., C.N.C. and Katherine M. Birkner, C.R.N.A., PhD. C.N.C.

A Guide to Coming Off Tranquilizers, Antidepressants (SSRIs, MAOs), Pain Pills, and More using Amino Acids and Nutrients!
Are You Battling a Dependence on Prescription Drugs?
Prescription drug addiction is no longer a hidden epidemic, but many people still don't realize that they are victims of prescription addiction, the side effects of which make them sicker than before they started taking the prescription drugs.
If you are sick of taking prescription drugs, this step-by-step guide provides a safe, gradual withdrawal from tranquilizers, antidepressants (SSRIs, MAOs, Tricyclics), pain pills, and other addictive medications and substances.
Withdrawing from an addictive substance can be a very stressful and frightening experience. Sometimes the withdrawal process feels as traumatic as what caused you to begin taking the prescription in the first place. This book will guide you through the experience as painlessly as possible.
As more psychotropic drugs flood this country, millions of people are looking for alternatives. Exciting breakthroughs in scientific research have lead to a new understanding of how amino acids and nutrients affect mind, mood, memory and behavior. This practical guide outlines a safe method of withdrawal, helpful information for the withdrawal experience, and wise advice about an aftercare program to help you stay drug-free.
If you or someone you love has a problem with antidepressants, tranquilizers, pain pills or other addictive substances, this book gives you the natural alternatives for a better quality of life naturally.

256 pages ISBN 1-889391-27-1
 
Available as AMAZON KINDLE Format
PRODUCT RETURN POLICY
RETURNS
You may return Unopened Bottles to Pain & Stress Center Products within 30 days of invoice.
We do not offer refunds on products that have been opened. Please call for a return authorization number. We charge a 20% restocking/handling fee for product returns, less shipping. Shipping fees are not refundable.
PROBLEMS OR CONCERNS

If there is a problem with any product, please call 1-800-669-2256 and talk with one of our customer representatives.