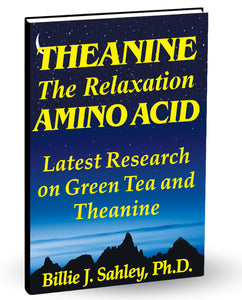 Theanine, The Relaxation Amino Acid by Dr. Billie J. Sahley, Ph.D., C.N.C.
Learn about Green Tea and Theanine, a new amino acid. Theanine produces alpha waves in the brain that puts you into a relaxed state like deep meditation without drowsiness.
Green Tea has been used in Asian countries for thousands of years. Now science is catching up, and there is documented research showing the importance and diversity of Green Tea and Theanine. This book contains the latest research to give you the most up-to-date information for your health. Dr. Sahley spent over a year studying the research and writing this concise, yet informative, book.
Theanine
Diminishes symptoms of PMS, depression and irritability
Enhances memory and concentration
Superior to St. John's Wort, Kava Kava and Valerian
Lowers blood pressure and protects the heart
Inhibits the growth of certain tumor (cancerous) cells
Enhances your immune system while lowering stress and anxiety
Safe and effective without adverse side effects
Learn why Theanine — an amazing new amino acid — can change your life by helping you relax naturally, without drowsiness or fear of addiction.
Available as AMAZON KINDLE Format