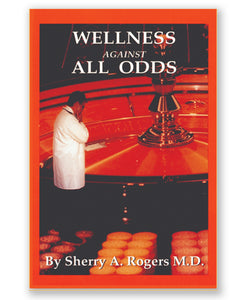 Wellness Against All Odds by Sherry A. Rogers, M.D.
In Wellness Against All Odds, Sherry Rogers picks up where The E.I. Syndrome — a groundbreaking book on her personal quest to cure her own multiple maladies — left off, providing a creative link between basic science, anatomy, physiology, and mechanistic understanding of disease and how people really live.
This book does a unique job of putting together clinical information, which has been tested and proven to be successful, with individual case histories which are anecdotal, but which come from one of the most respected leaders in environmental medicine, as authentic, basic emergence of the science of nutrition, immunology, and environmental health consumer information that can be utilized directly in a personal health improvement program.
As Jeffery Bland writes in the forward to Wellness Against All Odds: "I found this to be a book with a wealth of information that would be difficult to locate in standard reference sources, and even more difficult to consolidate into one readable manuscript."
After reading chapter one, "How This Book Came About", it is clear that what inspires Sherry Rogers is discovering everything that has ever worked for any ailment; helping her many patients over the years unlock the mysteries to their personal health issues; exploring every possible cure, all the while insisting there is no such thing as an "undiagnosable" or "untreatable" condition.
The irony is that some of these techniques have been around for over 90 years, and some for over 2,000! But with the advent of the pharmaceutical era, they have been ignored by most, save for a silent majority of physician sleuths, such as Sherry Rogers.
Wellness Against All Odds is recommended for anyone looking for a cogent, articulate discussion of where and how medicine is advancing, and how it applies to individuals who are taking charge of their own health, and are determined to achieve wellness against all odds.


PRODUCT RETURN POLICY

RETURNS

You may return Unopened Bottles to Pain & Stress Center Products within 30 days of invoice.
We do not offer refunds on products that have been opened. Please call for a return authorization number. We charge a 20% restocking/handling fee for product returns, less shipping. Shipping fees are not refundable.

PROBLEMS OR CONCERNS


If there is a problem with any product, please call 1-800-669-2256 and talk with one of our customer representatives.