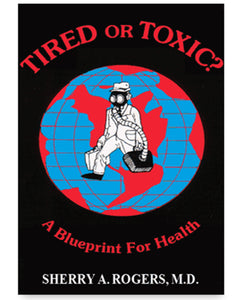 Disease is not a drug deficiency
Tired or Toxic? A Blueprint for Health by Sherry A. Rogers, M.D.
We are the first generation to be exposed to such an unprecedented number of chemicals. The work of detoxifying our bodies from these chemicals causes serious deficiencies. This maladaptation, in turn, has resulted in chronic disease.
But drugs are not the answer, and disease is not a drug deficiency.
Sherry A. Rogers' personal experience with environmental illness has made her an expert on the subject. Now it is her mission to teach what she has learned and help advance her knowledge for those who want full health.
Environmental illness is an epidemic in disguise
Many people who look unwell, feel awful, and are aging too rapidly are products of obsolete medical concepts that are not adequate for diagnosing and treating disease in the 21st century.
The classic patient who had developed chemical sensitivity has been to over a dozen specialists, has no diagnosis, and is eventually referred to a psychiatrist. Some patients have come into Sherry's office with an over six foot long pharmacy print out of just the medications prescribed to them in the preceding year by well-meaning physicians. Eventually, most have been labeled hypochondriacs and have been told their symptoms are all in their heads.
A forward written by William J. Rea, M.D., founder, Environmental Health Center, Dallas, thoracic and cardiovascular surgeon, in the first publication of Tired or Toxic? states "With the massive increase in environmental pollution from many angles and its resultant chemical sensitivity, terms such as xenobiotic, glutathione, xylene, toluene, toxic brain syndrome, conjugation, magnesium deficiency, chromium deficiency, and sick building syndrome will become commonplace." And so they have.
Thanks to Sherry A. Rogers, we now can find the individual biochemical glitches and environmental triggers for most symptoms.
PRODUCT RETURN POLICY

RETURNS

You may return Unopened Bottles to Pain & Stress Center Products within 30 days of invoice.
We do not offer refunds on products that have been opened. Please call for a return authorization number. We charge a 20% restocking/handling fee for product returns, less shipping. Shipping fees are not refundable.

PROBLEMS OR CONCERNS


If there is a problem with any product, please call 1-800-669-2256 and talk with one of our customer representatives.