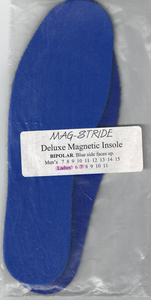 Deluxe Magnetic Insoles are reusable magnets for those on the go. Magnets are safe, natural and effective for the reduction of pain. On your feet all day? These Ladies size 7 insoles fit inside the shoe for lasting comfort all day.
Magnets can be safely worn all day and night!
WARNING: Do not use magnets if pregnant, wearing a pacemaker, any other electrical implant or device for medical reasons of any kind. F.D.A. compliance caution: No medical claims are intended or implied by any of the descriptive product literature shown.
1 pair Ladies Mag-Stride Insoles | Size 7
PRODUCT RETURN POLICY

RETURNS

You may return Unopened Bottles to Pain & Stress Center Products within 30 days of invoice.
We do not offer refunds on products that have been opened. Please call for a return authorization number. We charge a 20% restocking/handling fee for product returns, less shipping. Shipping fees are not refundable.

PROBLEMS OR CONCERNS


If there is a problem with any product, please call 1-800-669-2256 and talk with one of our customer representatives.