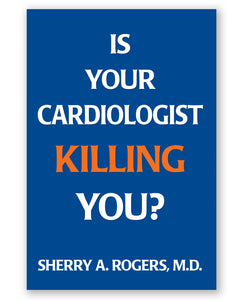 Is Your Cardiologist Killing You? by Sherry A Rogers, M.D.
True to form, Sherry Rogers focuses on the causes and the cures. In her most recent book, Is Your Cardiologist Killing You?, Dr. Rogers teaches you how to reverse heart disease without resorting to drugs, the side effects of which are almost always worse for your health than the disease. Written as a who-done-it mystery, this book takes a lighthearted approach to a heavy topic, making it easy to digest the current research that calls for a radical new approach to treating a serious disease. Read this book. And decide whether you need to fire your cardiologist.
Finding The Cause and the Cure
"Clearly stains, as just one example, were "blessed" by the FDA and rushed to market long before their true clinical effects were identified. My head is whirling at the incredible power of our drug companies. Medicine has invented, by recommending drugs to inhibit damaged pathways, a system that bypasses identifying the correctable causes of disease, and in the process drug side effects create devastating medical problems that appear unrelated. Dr. Rogers' fine book will guide you out of this quagmire, and lead you to finding the "cause and cure" for cardiovascular symptoms."
M.Duane Graveline, M.D. MPH, author of Lipitor, Thief of Memory, and Statin Drugs Side Effects, and the Misguided War on Cholesterol
The Mistaken Causes of Heart Failure
"Do you have high blood pressure, high cholesterol, cardiac arrhythmias like atrial fibrillation, congestive heart failure or cardiomyopathy or pericarditis? Once you have found the actual underlying causes and cures of your heart disease, it no longer matters what the label is. Dr. Rogers combines common sense and critical science into a modern medical care package. She is determined to restore health and extend a meaningful lifestyle to as many seriously ill cardiac cripples as possible."
Doris J. Rapp, M.D. Author of Our Toxic World, A Wake Up Call
Where Does The Evidence Lead You
"Dr. Sherry Rogers' passion and enthusiasm for facilitating the process of advancement and change in the health profession has earned her enormous respect from many colleagues. I encourage health providers and individuals to read the content of this book with an open mind and critical thought. Readers will be rewarded with a voluminous amount of invaluable and referenced health information-- --knowledge that may be life-changing for them and their loved ones".
Stephen J. Genius, M.D. FRCSC, DABEM, FAAEM, Clinical Associate Professor, Faculty of Medicine, University of Alberta


PRODUCT RETURN POLICY

RETURNS

You may return Unopened Bottles to Pain & Stress Center Products within 30 days of invoice.
We do not offer refunds on products that have been opened. Please call for a return authorization number. We charge a 20% restocking/handling fee for product returns, less shipping. Shipping fees are not refundable.

PROBLEMS OR CONCERNS


If there is a problem with any product, please call 1-800-669-2256 and talk with one of our customer representatives.