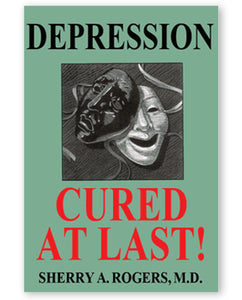 Depression is the Worst Illness
Depression Cured at Last! by Sherry A. Rogers M.D.
By definition, depression is the disease of NO HOPE. Yet nothing could be further from the truth. Sherry Rogers wants you to know that depression is a medical disease that has correctable causes.
Like many illnesses, depression has a whole spectrum of symptoms; no two people are exactly the same. Depression can accompany many diseases and actually be a side effect of diseases, such as chronic fatigue or a low thyroid. Or it can manifest itself as a prolonged grieving period, or a psychotic state where there are extreme highs and schizophrenic-like mania interspersed with the extreme lows of depression.
No longer does depression have to be treated as though it were a Prozac deficiency.
Compiled in an extensive 4 volume reference, Depression Cured At Last! is in-depth discussion of the disease and its potential causes, including environmental triggers, hidden food, chemical and and mold sensitivities as well as vitamin, mineral, essential fatty acids and amino acid deficiencies. Other possible causes covered are hormone deficiencies, leaky gut syndrome, intestinal dysbiosis, heavy metal toxicity, toxic encephalopathy (brain fog) and many more.
And while finding and correcting the hidden causes of your depression, you will most likely find and correct the causes of many, if not all of any other health problems. This book is a blueprint for solving mental, problems.
As stated in the beginning of Depression Cured At Last! "...the purpose of this book is as a source of ideas for you to share with your physician so that together you can explore the many potential causes and cures of your depression."
TABLE OF CONTENTS
Volume 1 Environmental Factors
Volume II Nutritional Factors
Volume III Metabolic Factors
Volume IV Treatments


PRODUCT RETURN POLICY

RETURNS

You may return Unopened Bottles to Pain & Stress Center Products within 30 days of invoice.
We do not offer refunds on products that have been opened. Please call for a return authorization number. We charge a 20% restocking/handling fee for product returns, less shipping. Shipping fees are not refundable.

PROBLEMS OR CONCERNS


If there is a problem with any product, please call 1-800-669-2256 and talk with one of our customer representatives.