Skip the product gallery and learn about product details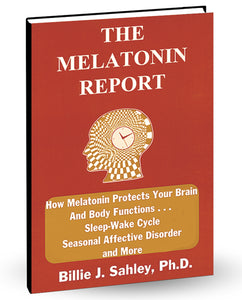 Share the product on social media
Product Description
Trouble sleeping? Travel to different time zones?
The Melatonin Report by Dr. Billie J. Sahley, Ph.D., C.N.C.
Learn more about Melatonin, an amazing neurohormone. A few years ago, doctors thought the tiny pineal gland located at the base of the brain had no purpose. Then they discovered that the pineal gland is a storehouse of neurotransmitter hormones affecting the brain as dramatically as the rest of the body.
Today, the pineal gland's chief hormone, Melatonin, has gained medical respect. Everyday new scientific data regarding Melatonin's importance is being released.
Learn how important Melatonin is, who could benefit from it and who should not take Melatonin
Learn about the circadian rhythm and how Melatonin affects your sleep-wake cycle
Learn about Seasonal Affective Disorder and what role Melatonin plays with it
Learn how Melatonin is a powerful antioxidant and how it affects the body 
A great summary of melatonin!
PRODUCT RETURN POLICY
RETURNS
You may return Unopened Bottles to Pain & Stress Center Products within 30 days of invoice.
We do not offer refunds on products that have been opened. Please call for a return authorization number. We charge a 20% restocking/handling fee for product returns, less shipping. Shipping fees are not refundable.
PROBLEMS OR CONCERNS

If there is a problem with any product, please call 1-800-669-2256 and talk with one of our customer representatives.