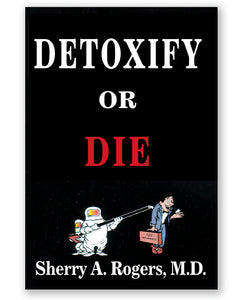 Curing What Ails You
Detoxify or Die by Sherry A. Rogers, M.D.
This book is for those who seriously want to get to the bottom of their "diagnosis". If you've had a medical practitioner give you a diagnosis with the unhappy claim that there is no known cure, take heart. As stated in the introduction to Detoxify or Die,"The only thing that matters is what has caused the symptoms and whether you have enough knowledge to reverse and get rid of that cause."
This book will give you that knowledge.
Sherry Rogers tells us "We were designed to live well past our 90s and die in our sleep." And also, "Taking medications merely shuts off the broken pathway, allowing you to continue ignoring the cause . . .while the disease-causing deficiencies and toxicities remain undiscovered and uncorrected, eventually triggering new and seemingly unrelated symptoms."
Detoxify or Die will show you:
Incontrovertible evidence that environmental chemicals are everywhere and we cannot avoid them
How these stealth toxins that are in all of our bodies, are the underlying cause of nearly all disease
That getting rid of these toxins gets rid of even the most hopeless and baffling diseases.
How to do it in your own home, while rounding out your knowledge with further protective and therapeutic facts you need to know to become and remain independently healthy
The sources for all products and scientific references for everything in this book
Not only do environmental chemicals get into the body, but once there, we do not have the metabolism to get rid of them, so they silently stockpile
If you are serious about healing, then brace yourself for a crash course in curing whatever ails you.
PRODUCT RETURN POLICY

RETURNS

You may return Unopened Bottles to Pain & Stress Center Products within 30 days of invoice.
We do not offer refunds on products that have been opened. Please call for a return authorization number. We charge a 20% restocking/handling fee for product returns, less shipping. Shipping fees are not refundable.

PROBLEMS OR CONCERNS


If there is a problem with any product, please call 1-800-669-2256 and talk with one of our customer representatives.