Skip the product gallery and learn about product details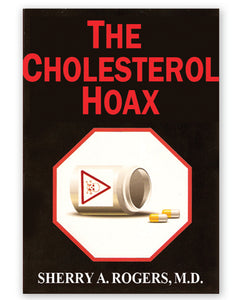 Share the product on social media
Product Description
The Cholesterol Hoax by Sherry A. Rogers, M.D.
"Over half the folks on statin drugs get coronary artery disease anyway, plus the drugs set them up for Alzheimer's, impotence, suicide, cancer and an avalanche of drug-induced nutrient deficiencies that propel them toward accelerated aging.
I highly recommend reading this revolutionary, exceedingly well-documented book so that you will know more than your cardiologist does about drug-free heart healing. Having high cholesterol is one of the luckiest things that ever happened to you if it lead you to this book. Actually, everyone should read it regardless of their cholesterol status, everyone, that is, who plans to be alive next year."
— Doris Rapp, M.D., Board Certified in Pediatrics and Environmental Medicine, Author of Our Toxic World, A Wake Up Call
CHAPTERS:
I.     Cholesterol Drugs Can Kill You
II.    Quick Fixes for Lowering Cholesterol the Smart Way
III.   Fracturing the Myths About Cholesterol
IV.   The Diet Connection - The Good, Bad, and the Ugly
V.    You Can Catch a Heart Attack: The Infection Connection
VI.   The Nutrient Connection
VII.  The Toxic Connection
VIII. Creating Your Cholesterol Reversing Plan and More
IX.   Resources
PRODUCT RETURN POLICY
RETURNS
You may return Unopened Bottles to Pain & Stress Center Products within 30 days of invoice.
We do not offer refunds on products that have been opened. Please call for a return authorization number. We charge a 20% restocking/handling fee for product returns, less shipping. Shipping fees are not refundable.
PROBLEMS OR CONCERNS

If there is a problem with any product, please call 1-800-669-2256 and talk with one of our customer representatives.