Skip the product gallery and learn about product details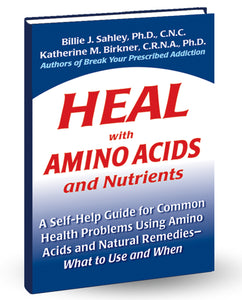 Share the product on social media
Product Description
Heal with Amino Acids and Nutrients by Billie J. Sahley, Ph.D., C.N.C. and Katherine Birkner, C.R.N.A., Ph.D.
A Self Help Guide for Common Health Problems Using Amino Acids and Natural Remedies
Updated and Expanded 9th Edition.

All protein you eat is formed by amino acids. Amino acids make up your biochemistry. Everyone's chemistry is different. What exactly are these amino acids (some are key neurotransmitters), and how do they work to keep us balanced and healthy?
Read about what amino acids do and how they influence your health. Understand how deficiencies of specific amino acids cause nervousness, hyperactivity, low mood, irritability, sleep problems and more.
Heal with Amino Acids and Nutrients is a self-help guide to using amino acids and natural remedies for common health problems. Learn why amino acids are needed for all brain and body functions, and how specific amino supplements may work to make you feel better, especially in times of stress.
Amino acids are the medicines of the 21st century.
(ISBN:1-889391-40-3)
Available as AMAZON KINDLE Format
PRODUCT RETURN POLICY
RETURNS
You may return Unopened Bottles to Pain & Stress Center Products within 30 days of invoice.
We do not offer refunds on products that have been opened. Please call for a return authorization number. We charge a 20% restocking/handling fee for product returns, less shipping. Shipping fees are not refundable.
PROBLEMS OR CONCERNS

If there is a problem with any product, please call 1-800-669-2256 and talk with one of our customer representatives.